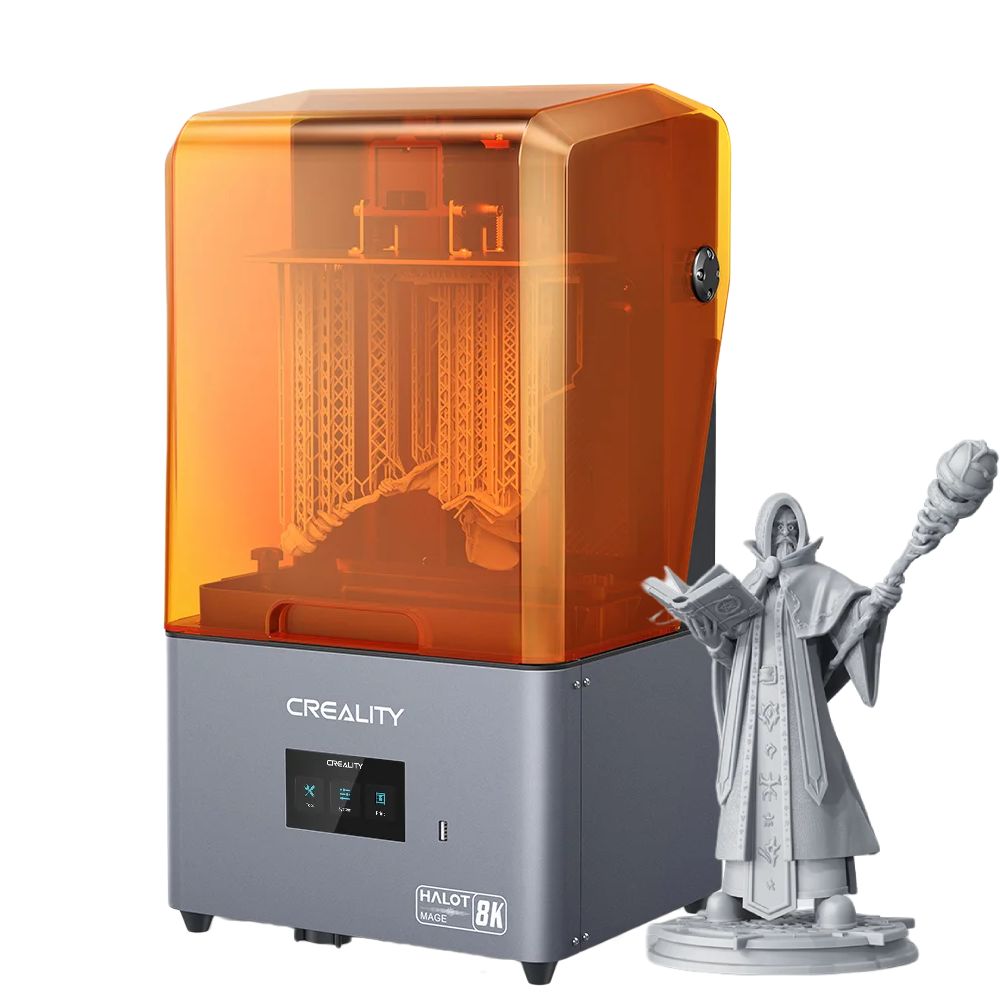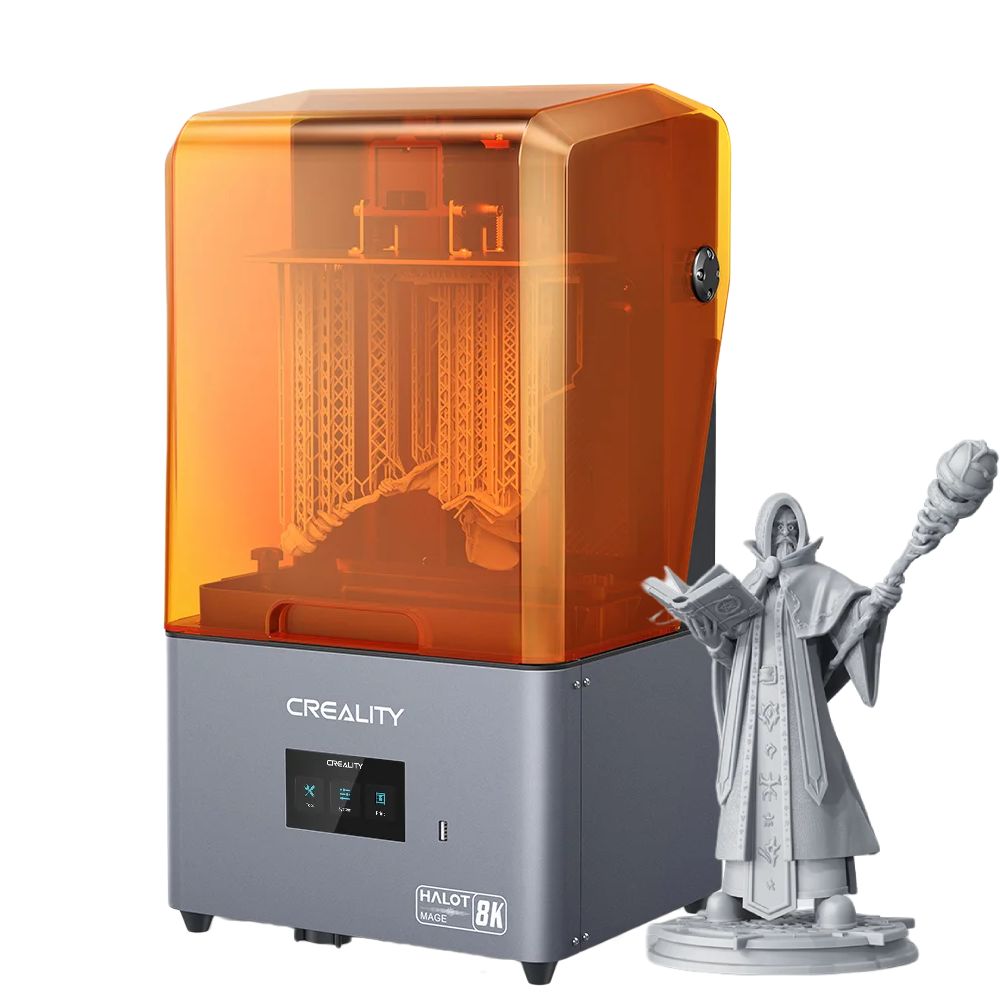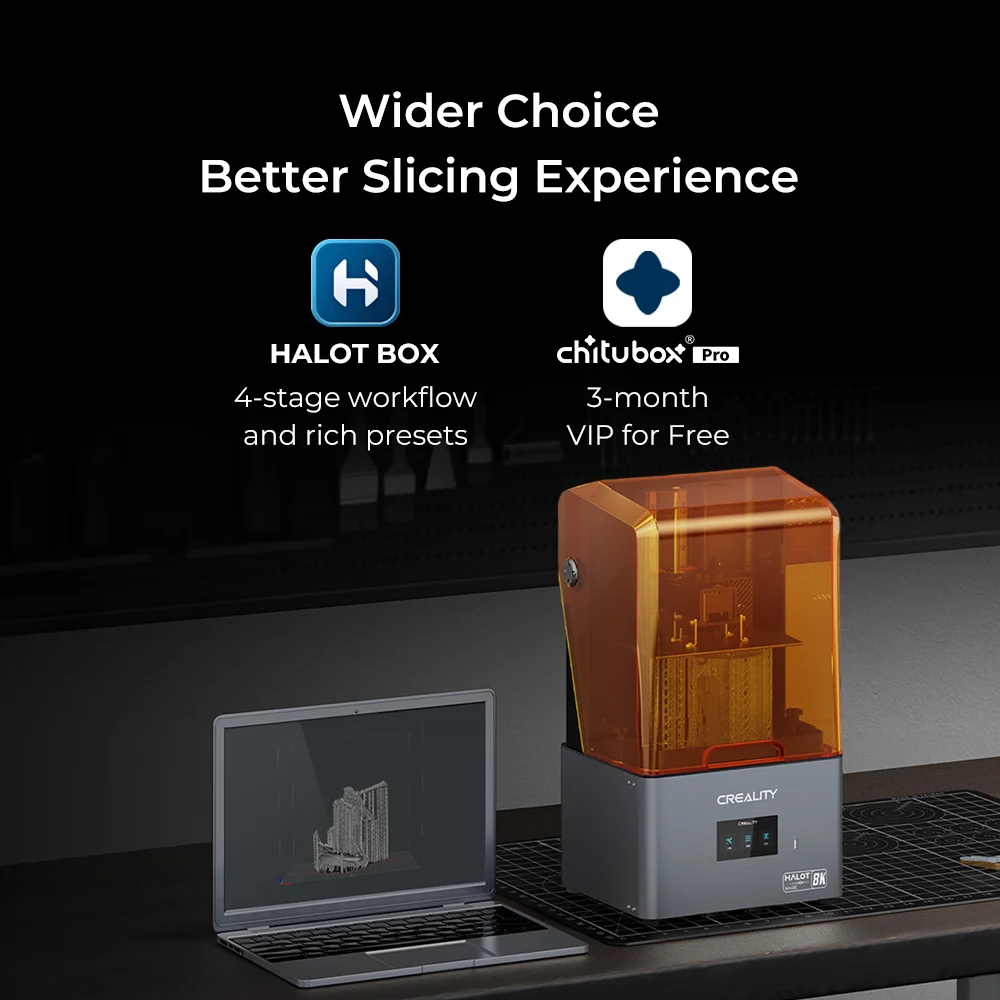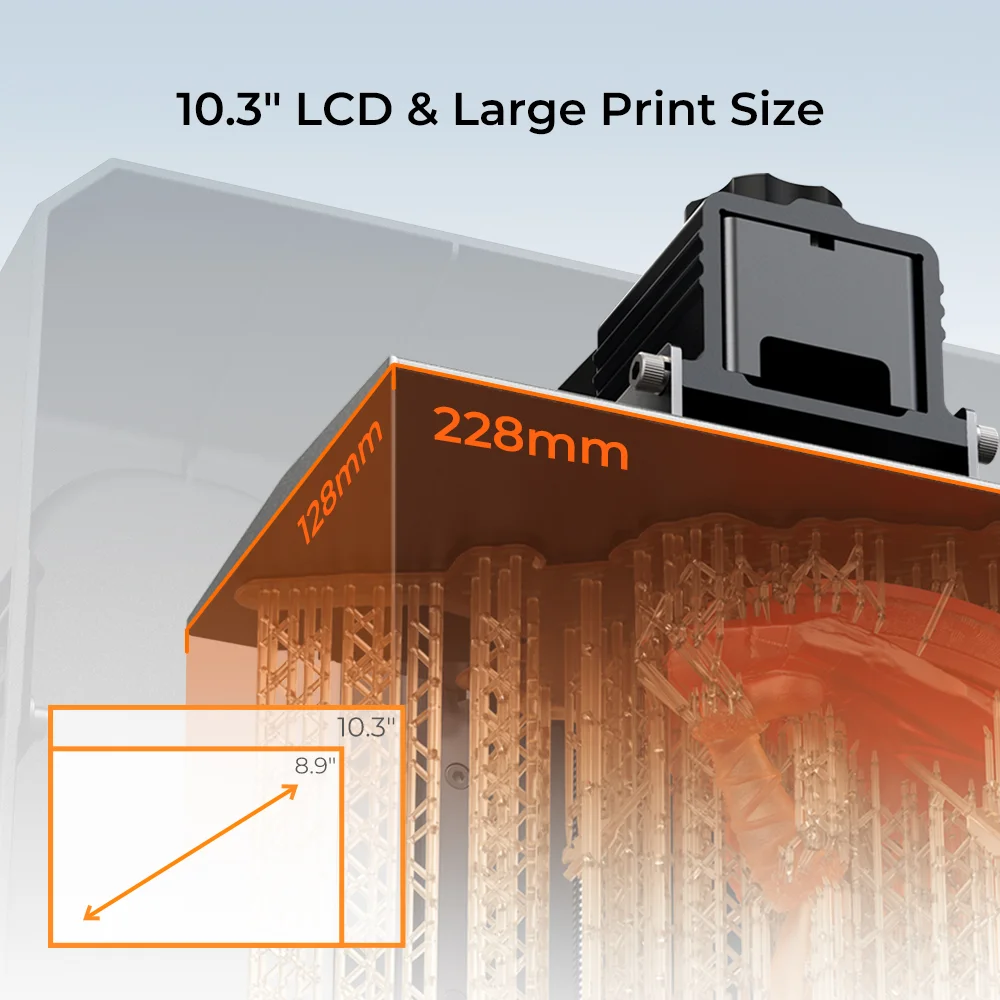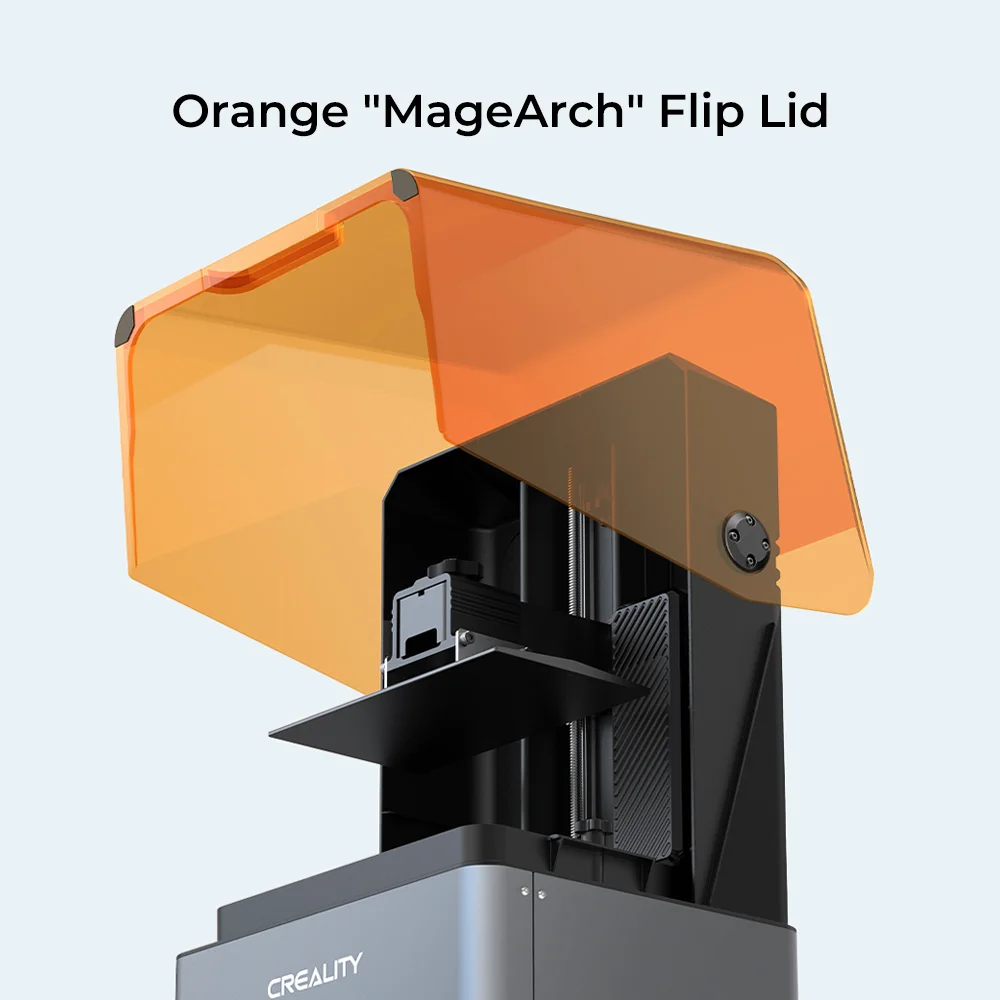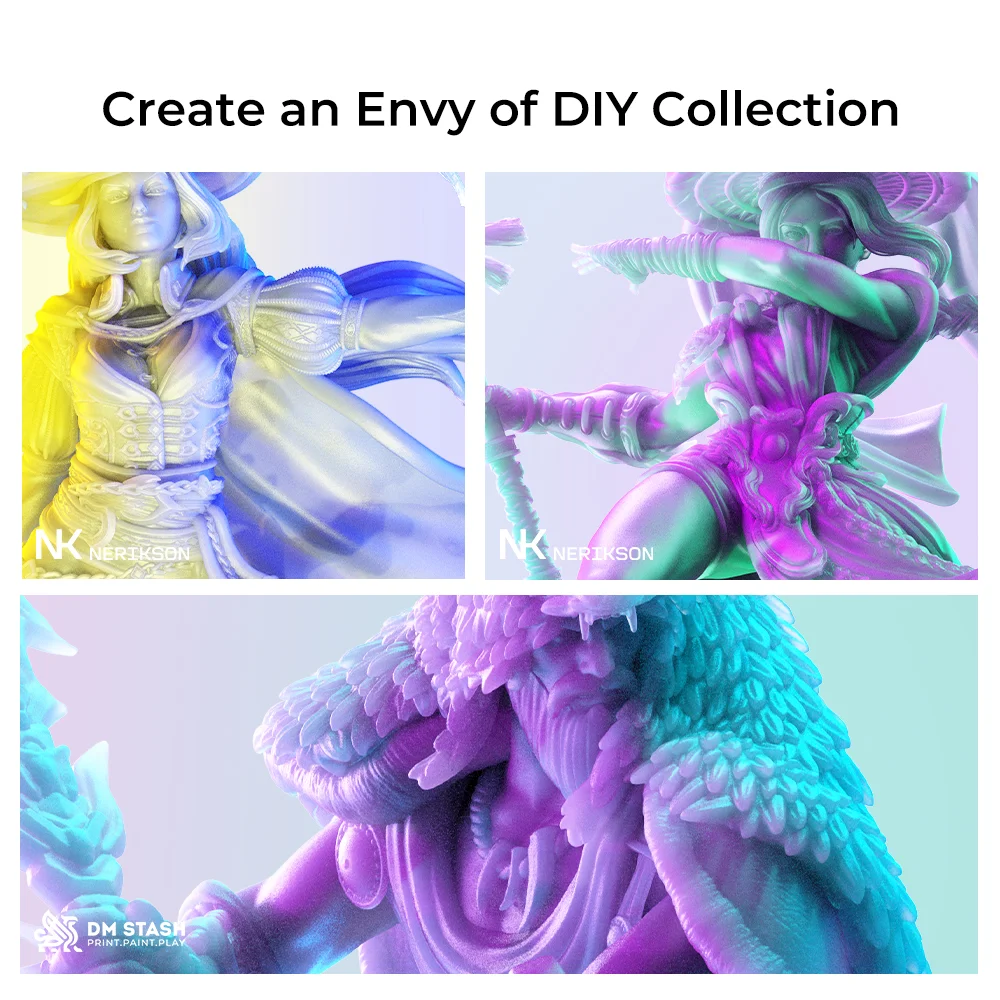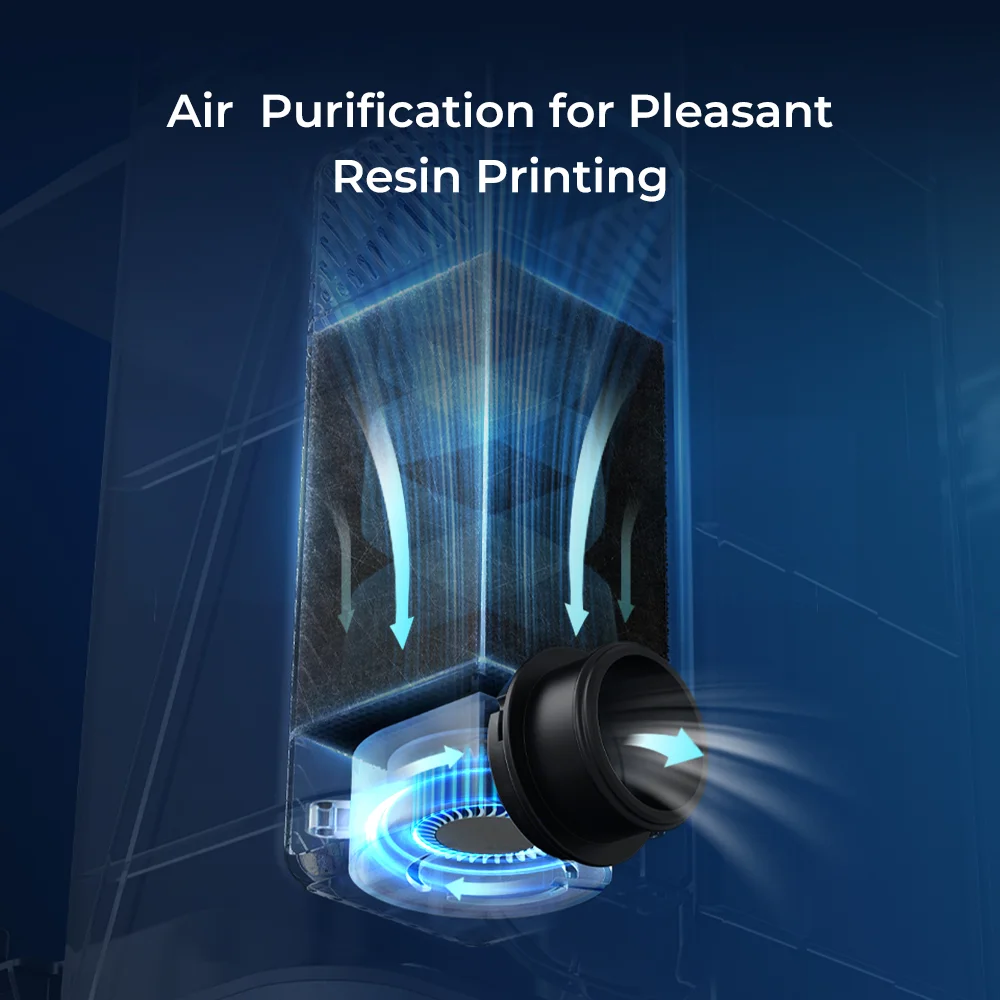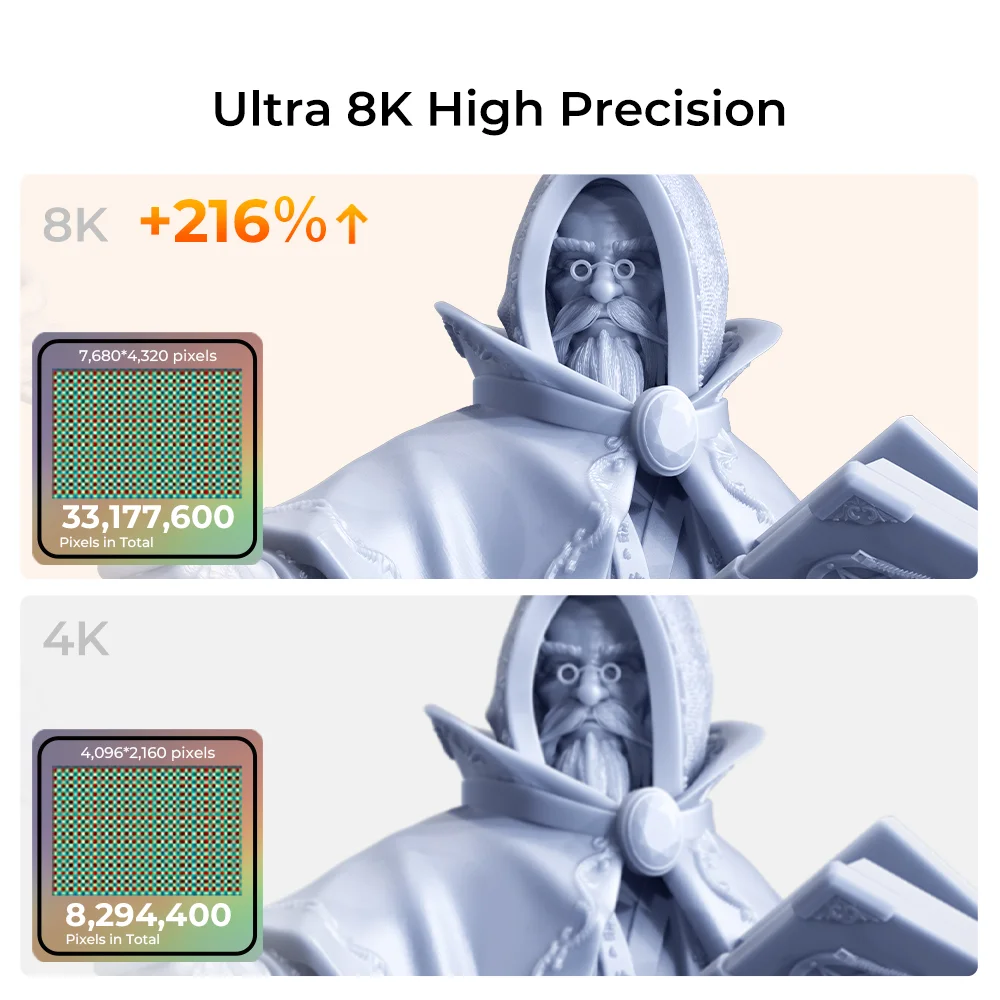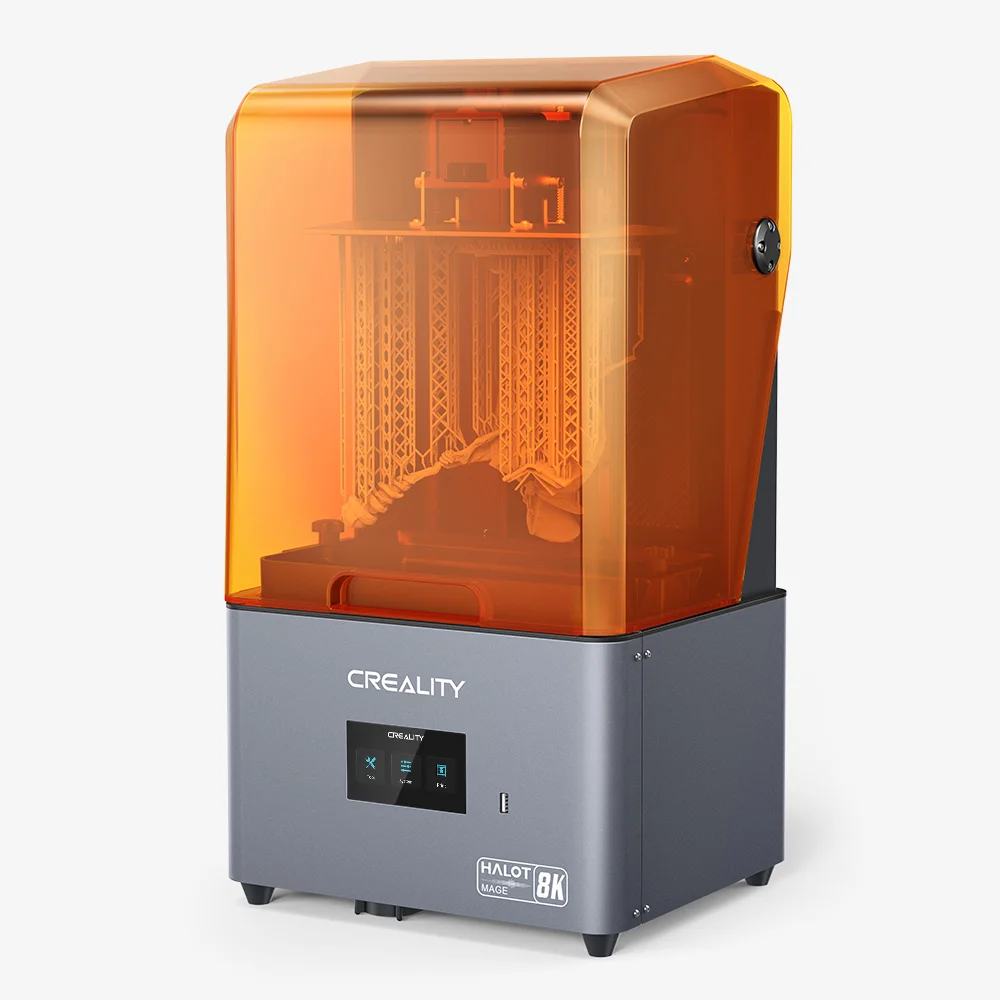 Creality Halot Mage 8K Resin 3D Printer
Ship to
It is expected to arrive within and will cost
€
EUR
to ship
This item can't be shipped to this Country/Region
Bundles
${ meal.bage }
${ meal.title }
${ meal.skus }
${ sku.name }:
${ skuVal }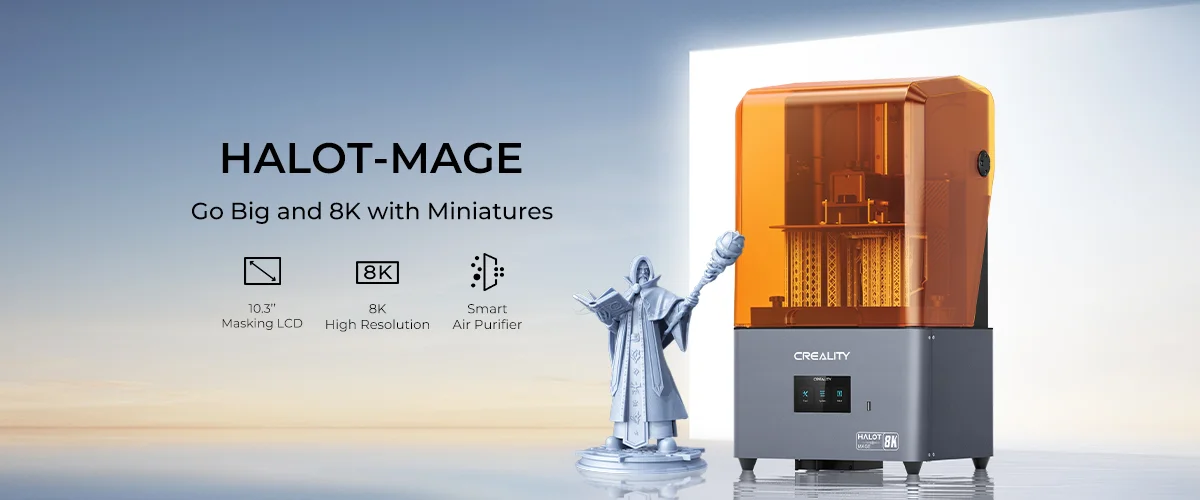 8K Magic for Exciting Details
8K mono LCD brags 33,177,600 pixels and 29.7μm XY resolution, a huge leap from the 50μm of regular 4K. Hair, fabric, skin textures, and organic shapes all come to life.
Think Big with 10.3'' LCD
HALOT-MAGE features a large LCD screen for a 228x128x230mm build volume, about 45% larger than an 8.9" printer. Now, more can be done at will to amplify the joy. Just work magic in a bigger way.
Create an Envy of DIY Collection
Start to print your own figurines, miniatures, or cosplay props. It is a rituality and pride that can not be replaced by buying from others.
Wow, "MageArch" Flip Lid
The flip lid of HALOT-MAGE is easy to open and close with one hand and needless to place aside. The orange tint is practical to block 99.89% of ambient UV light for minimal interference.
Air Purifier Really Saves the Day
Powered and controlled via the printer directly, it includes a replaceable activated carbon filter that is 5.8 times larger than others. It absorbs irritant resin odor more efficiently. A vent hole is at its back to connect a vent tube.
Ultra Steady Z-axis with Dual Linear Rails
The Z-axis of HALOT-MAGE features dual rigid linear rails and is driven up and down by a powerful motor. It reduces wobbling vastly and deals well with larger, heavier prints.
Wider Choice, Better Slicing
The self-developed HALOT BOX adopts an intuitive 4-stage workflow and includes many presets. HALOT-MAGE is also compatible with other slicer software.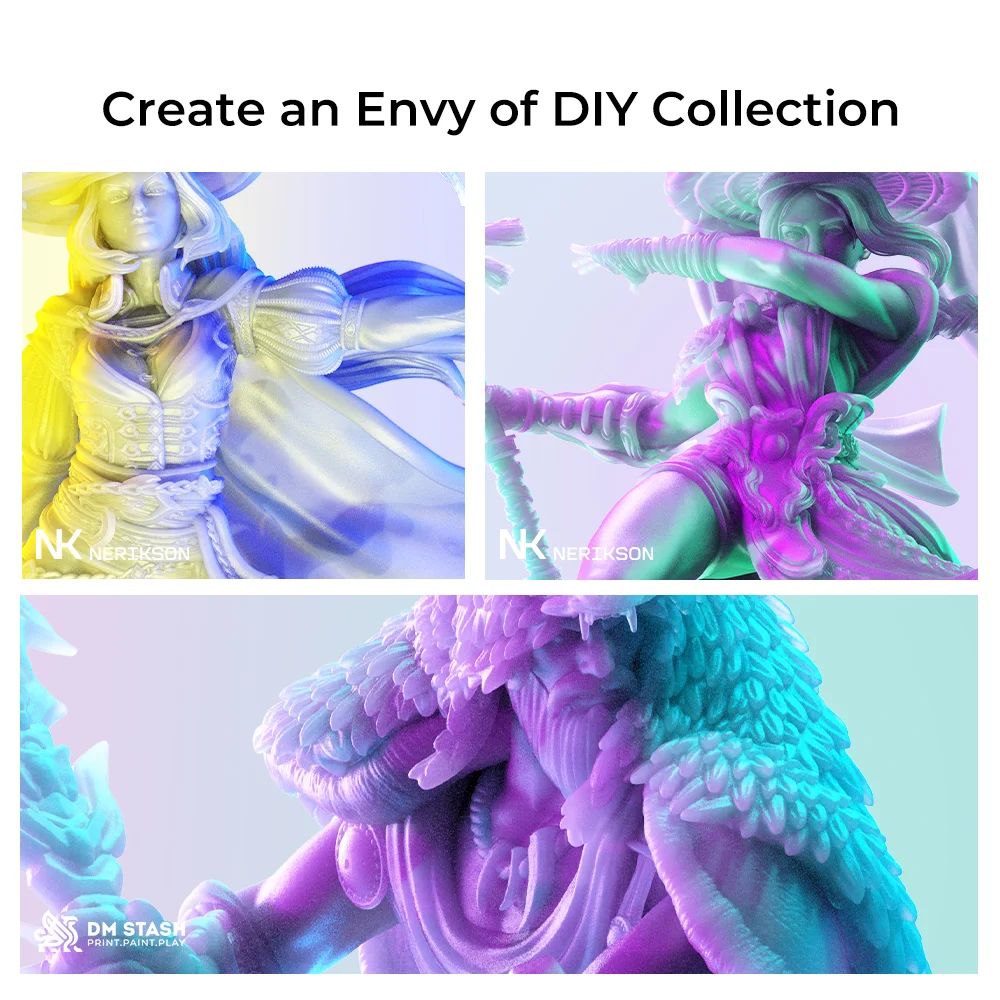 Printing Technology: LCD MSLA
Build Volume: 228x128x230mm (6712cm³)
Product Dimensions : 333x270x608mm
Package Dimensions : 420x350x675mm
Net Weight: 12kg
Gross Weight :15kg
Printing Speed :1-5s/layer
Layer Height :0.05-0.15mm
LCD Screen: 10.3" monochrome screen
LCD Resolution :8K (7680x4320)
XY Resolution :29.7μm
Light Source : Integral Light
Light Intensity : 5000±10%μW/cm²
File Transfer : USB drive
Air Purifier : Yes
Input Power : 100W
Resin :405nm resins
Slicing Software : HALOT BOX, CHITUBOX, Lychee Slicer
Computer OS : Windows/Mac
File Formats : STL/OBJ
Display Screen: 4.3" color touchscreen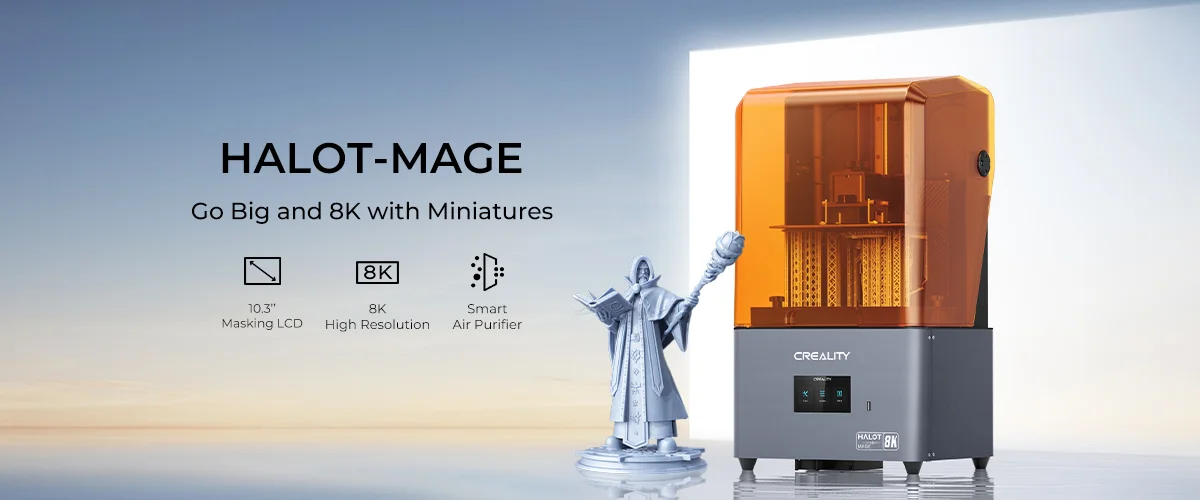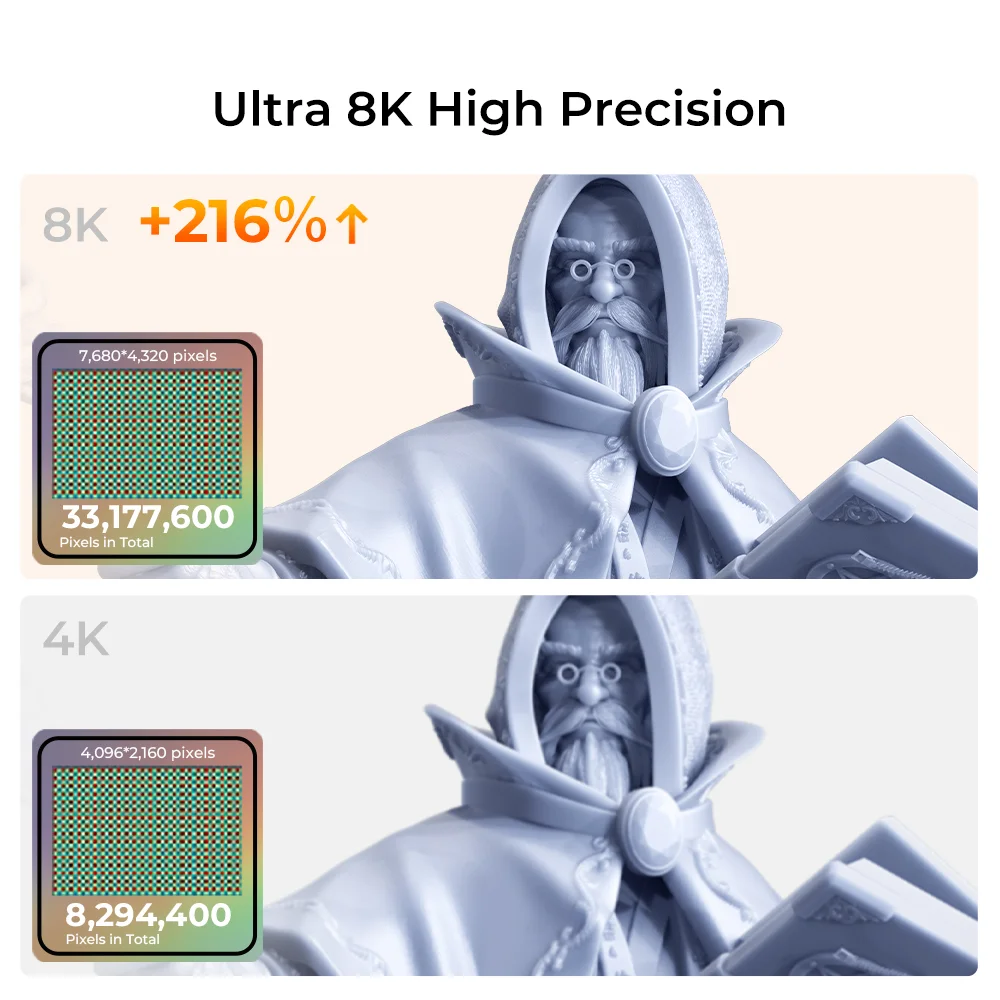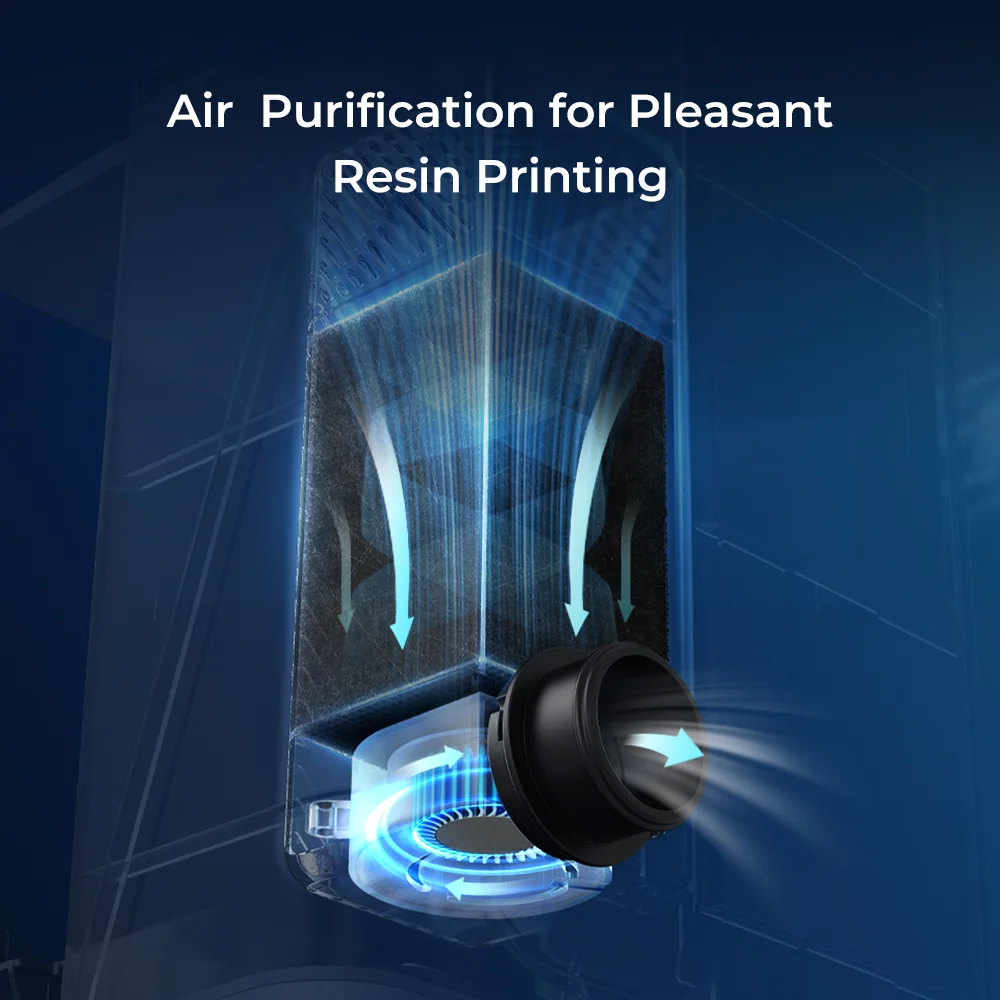 Customer Reviews
Write A Review
Ask A Question
Reviews (0)
Questions (0)