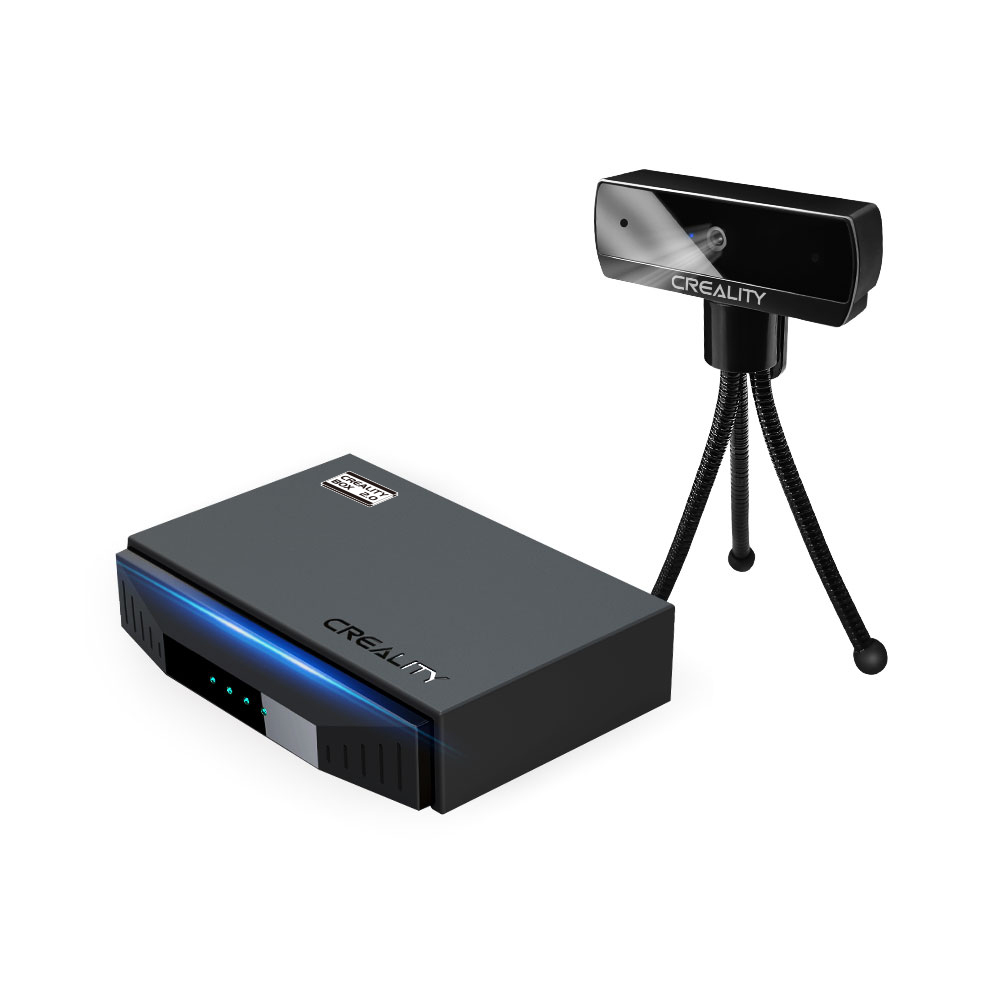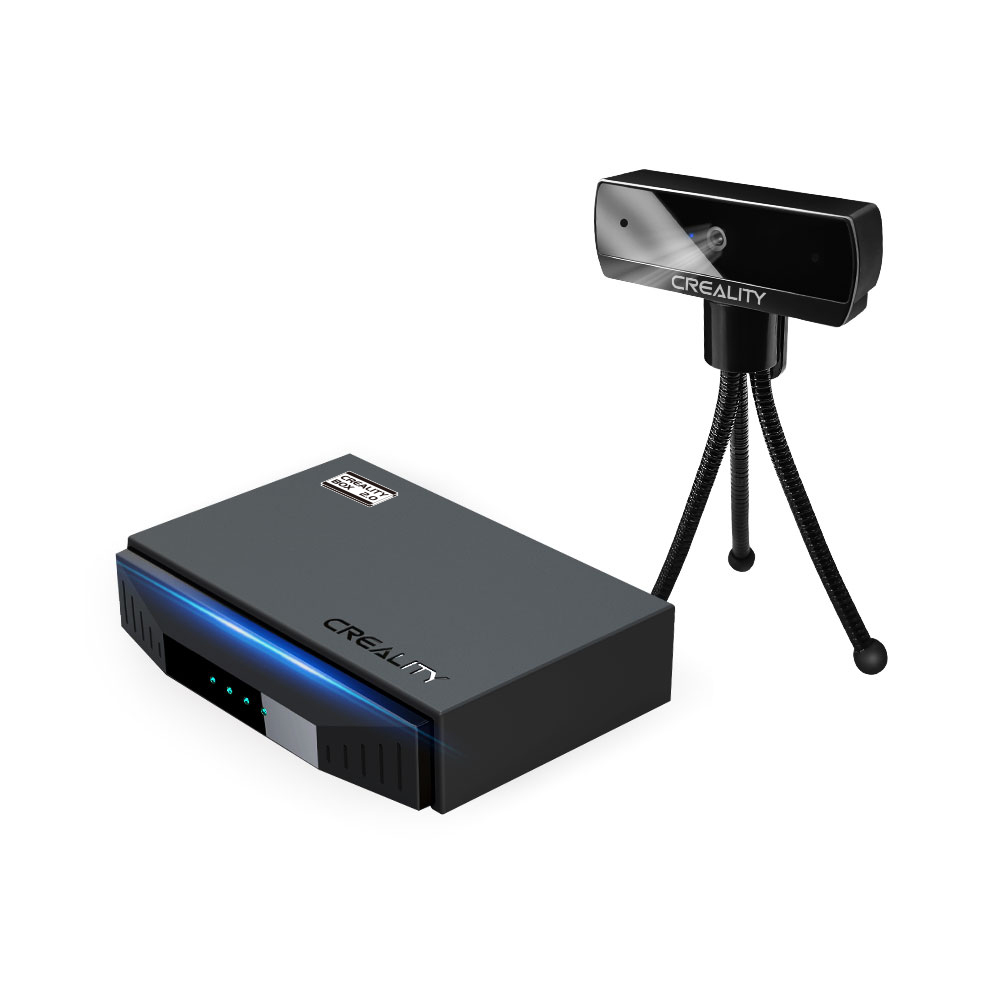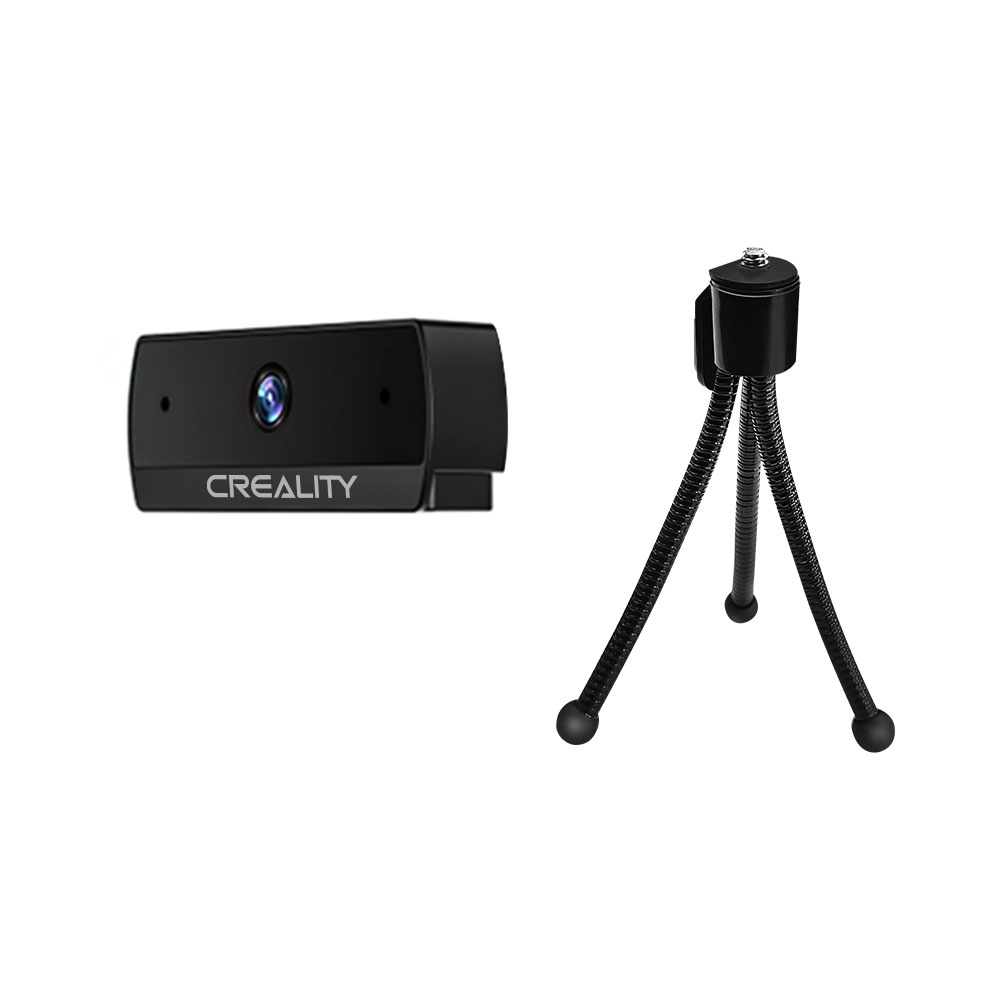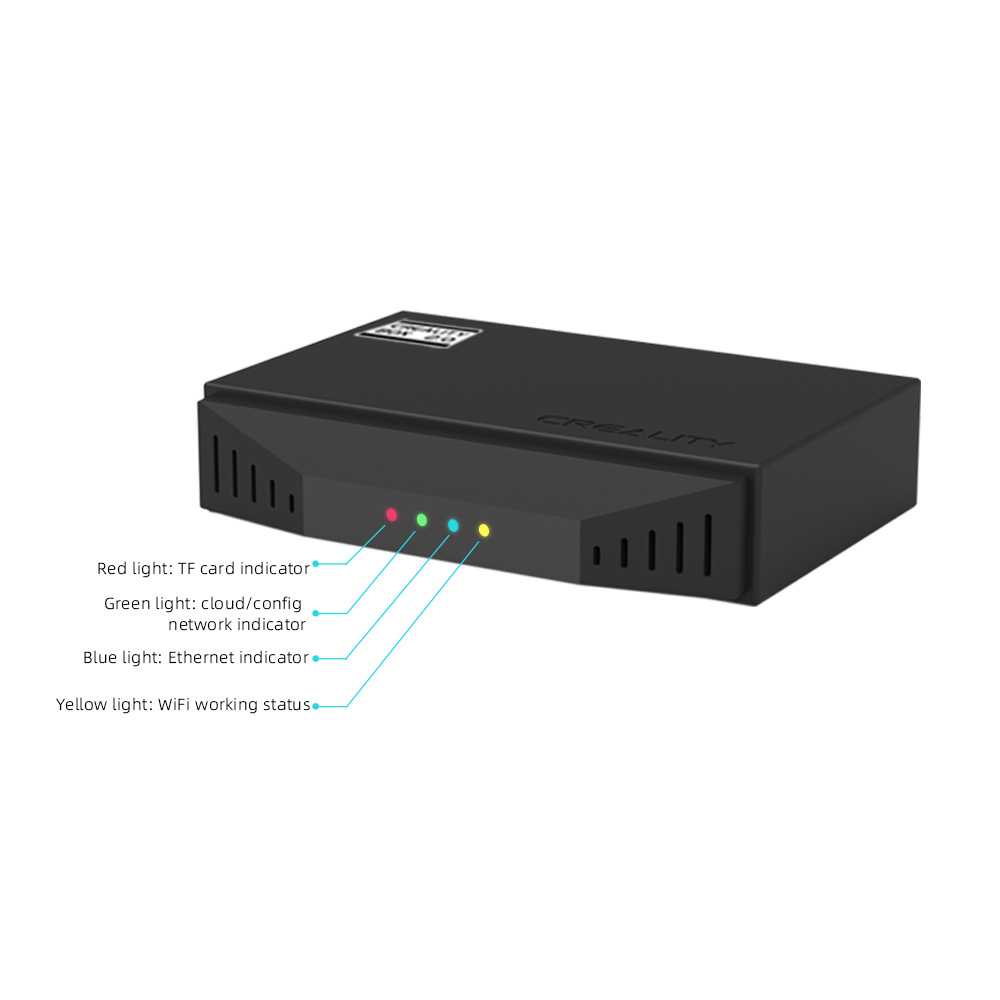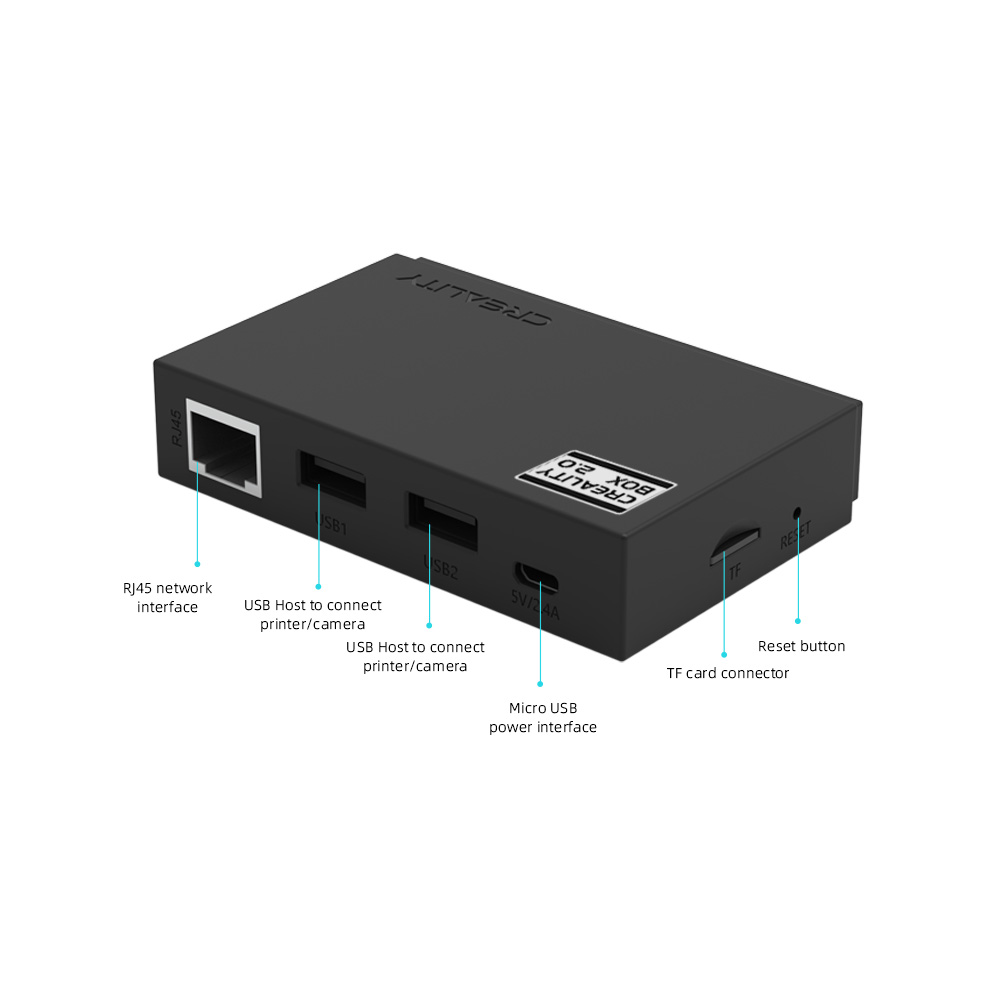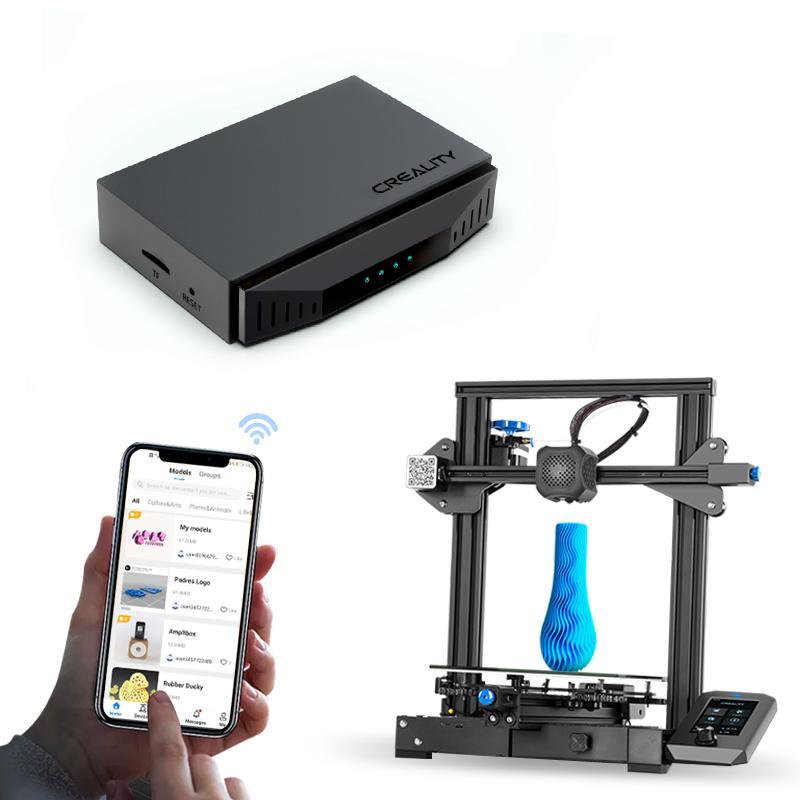 Creality Smart Kit Wifi Smart Box 2.0 with Camera and 8G TF Card
Ship to
It is expected to arrive within and will cost
€
EUR
to ship
This item can't be shipped to this Country/Region
Bundles
${ meal.bage }
${ meal.title }
${ meal.skus }
${ sku.name }:
${ skuVal }
People who bought this item also bought
Creality Smart Kits Wifi Box 2.0: WiFi Box & HD Camera Kits with 8G TF Card
Real-time Remote Control: Creality wifi Box 2.0, supports real-time remote control and real-time monitoring through Creation Cloud APP, and you can enjoy rich print model files, making you a more pleasant experience.
Time-lapse Photography Function: The wonderful scenes that cannot be detected during 3D printing can be easily captured through the Creality wifi Box 2.0, and automatically uploaded to the cloud, and you can watch the time-lapse video online through the Creality Cloud at any time.
Bluetooth Configuration Network, Easy to Operate: WiFi Box can easily and quickly configure the network through Bluetooth connection, simple operation, flexible use, and enhance your network configuration experience.
One-click Upload of Print Logs: The WiFi Box historical print log can be uploaded to the cloud with one click, which is convenient for us to provide better after-sales maintenance services.
Rich Interface and Powerful Functions. Note: Customers should prepare type-c cables for Ender-3 S1 Pro and Ender-3 S1.
Package Weight: 340g
Package Size: 13.5 x 10.5 x 5.8cm/1.4 x 4.1 x 2.3in
Packing List: 1 x Creality Smart Kit (With 8GB TF Card)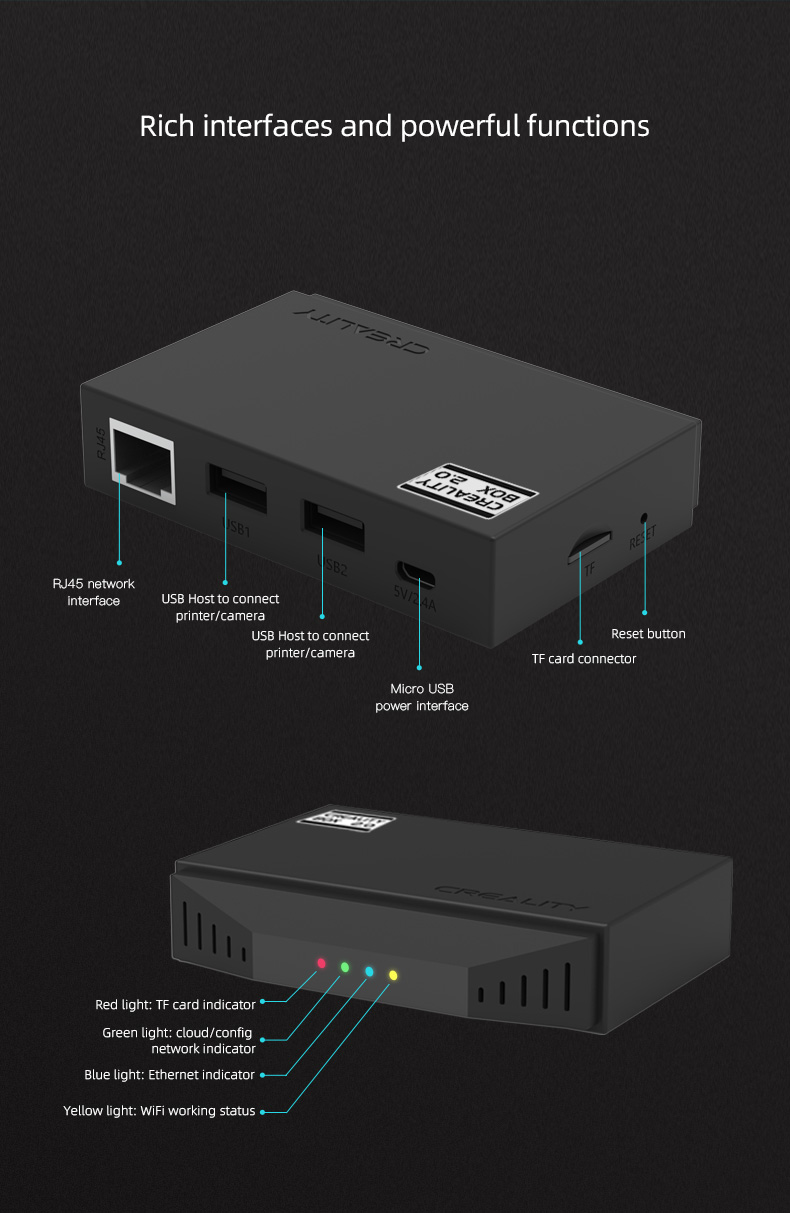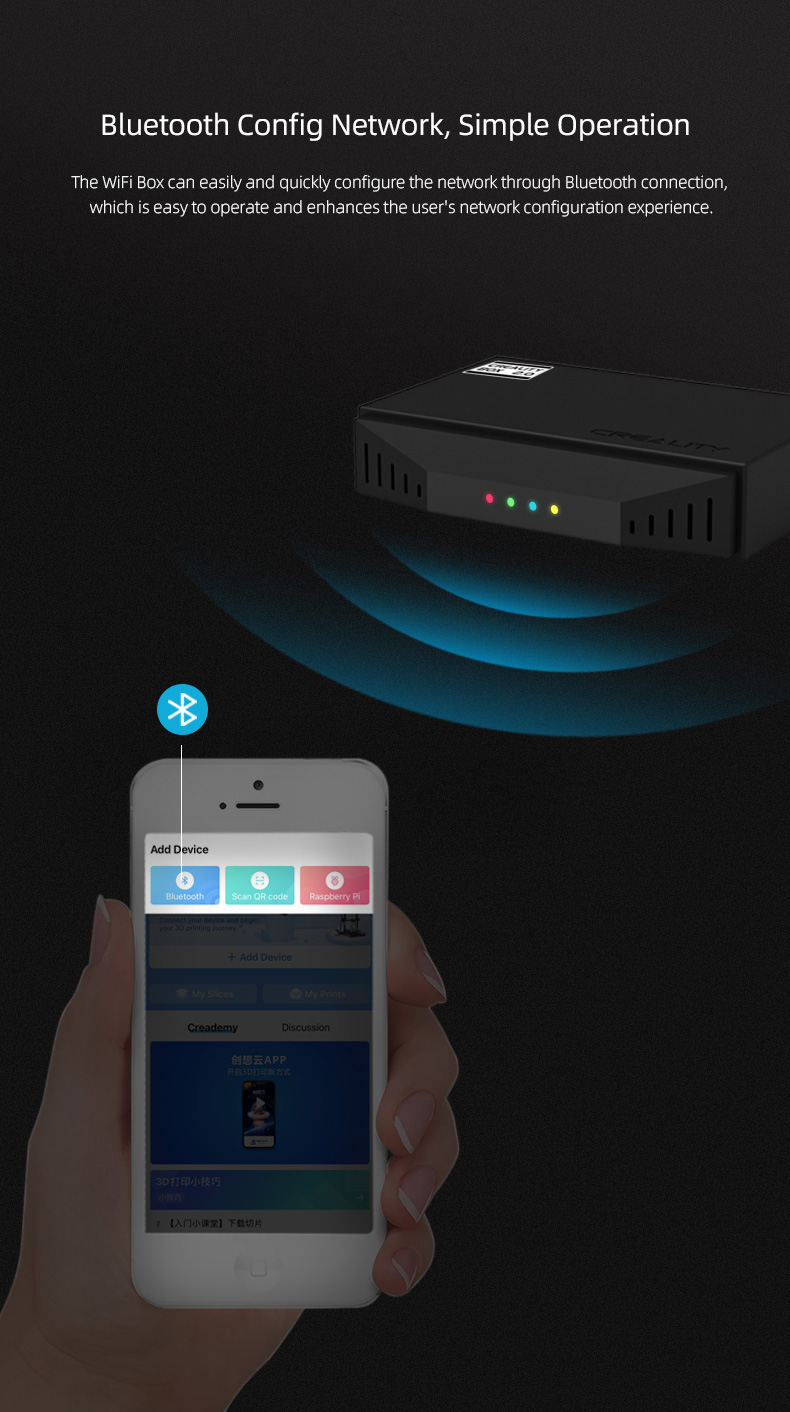 Creality Box
Processor: Mips24Kec, 580Mhz Main Frequency
Input Voltage: Micro USB, 5V/2.4A
Internal Storage: 128Mb Ddr2,16Mb Flash
Wired Communication: 100M Ethernet
Working Tempt: -20℃~60℃
Usb2.0: Connect And Control 3D Printers, Cameras And Other Peripherals
Wireless Communication: Ieee802.11b/g/n, 1T1R 2.4Ghz
TF Card Slot: Support Fat32/EXFAT Format TF Card And Firmware Upgrade
Size: 64 x 90 x 20mm/2.5 x 3.5 x 0.8in
Note: For the time being, we notice this WiFi Box is ONLY compatible with the default controller board and default firmware from Creality.
--------
Camera
Name: HD 1080P Web Camera
Size: 69.23 x 30.7 x 24.5mm/2.7 x 1.2 x 1in
Input Voltage: 5V
Video Format: H.264/MJPG/YUY2
SNR: 36 db
Processor: FH8852
Maximum Effective Pixel: 1920(H)x1080(V)
Video Format: H.264/MJPEG
Minimum Illumination: <10LUX
Viewing Angle: D=70.6°/H=63.6°/V=38"
Support Standard: UVC/V4L2
Focus: 40 cm
Working Temp:-20℃~60℃
Compatible System: Windows/Linux/Mac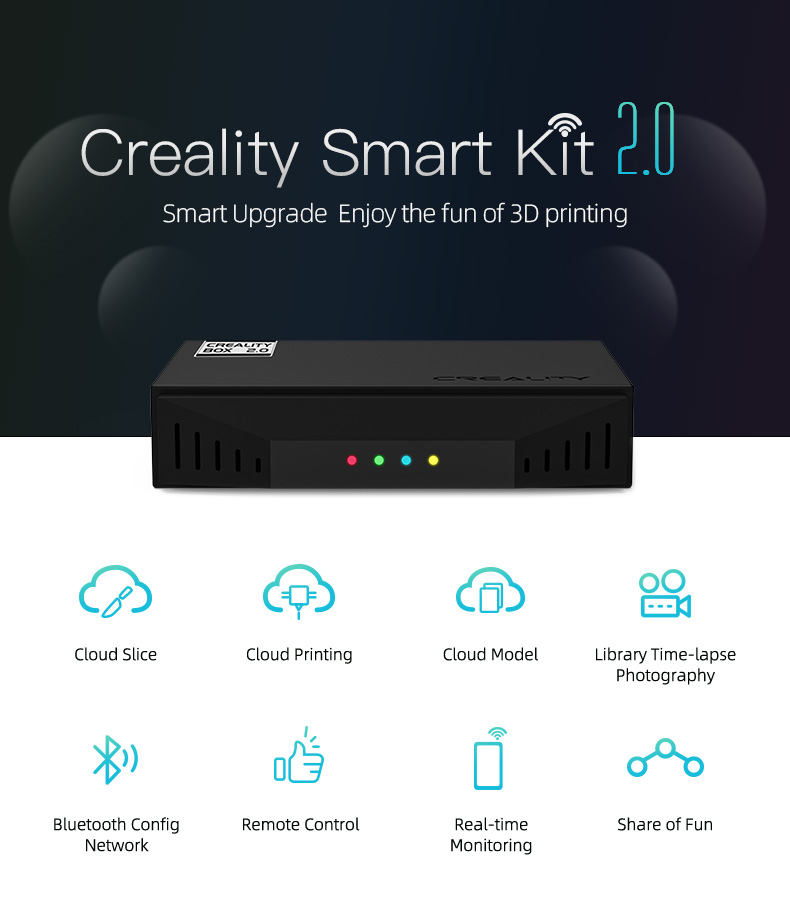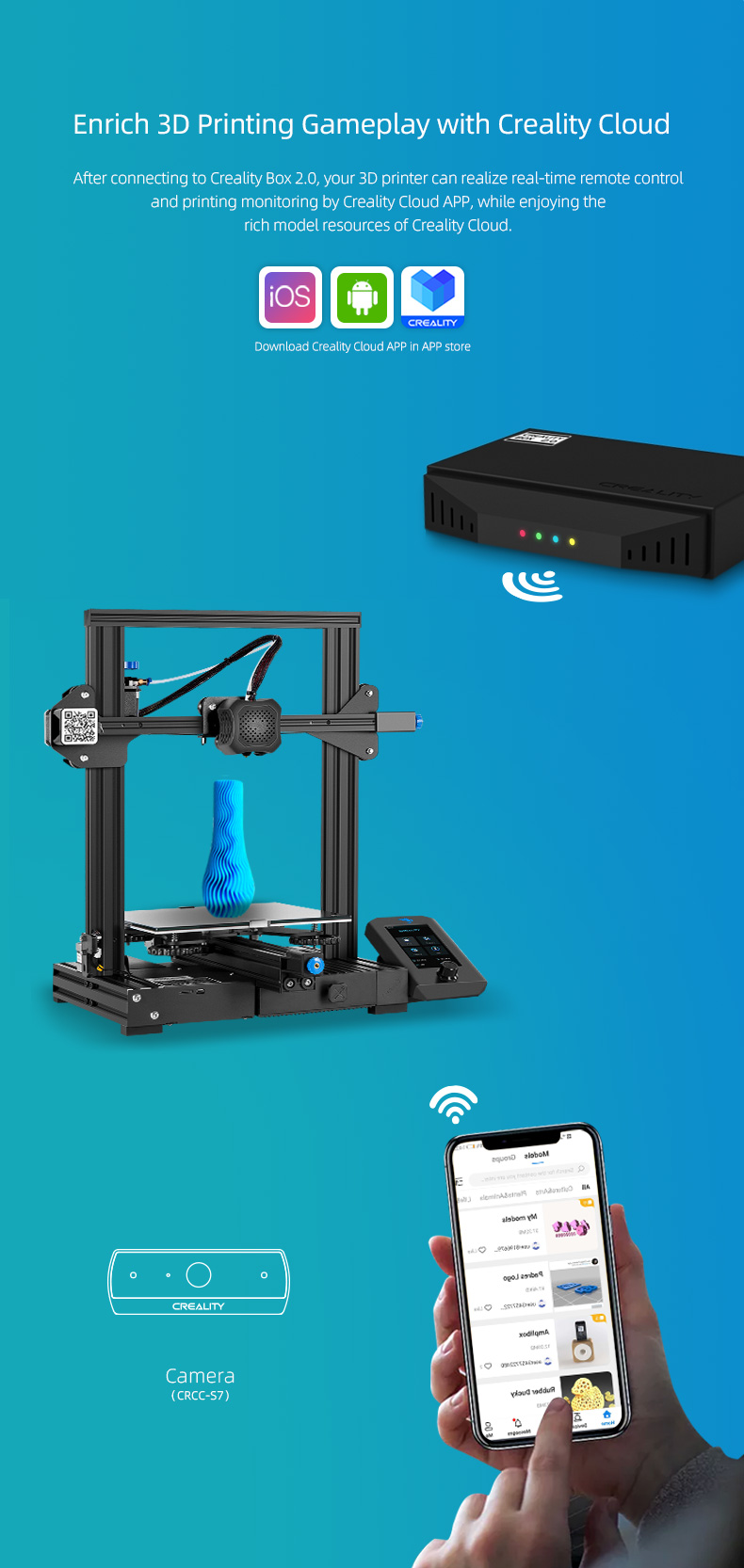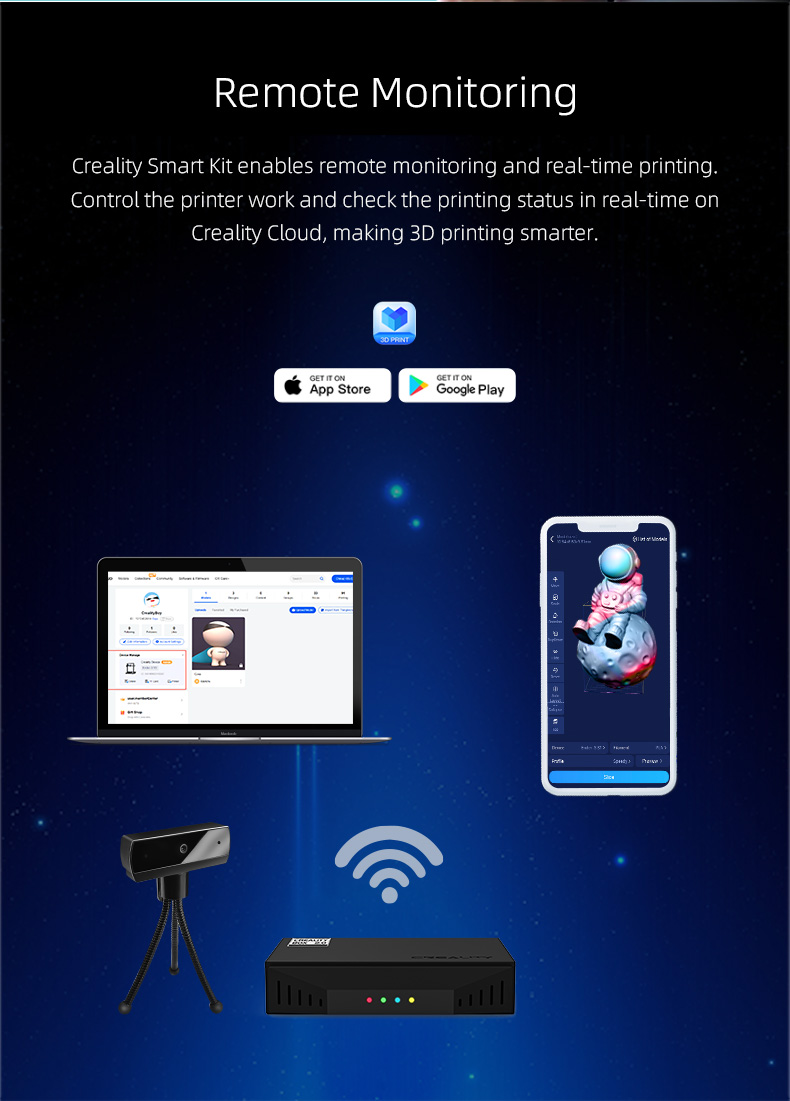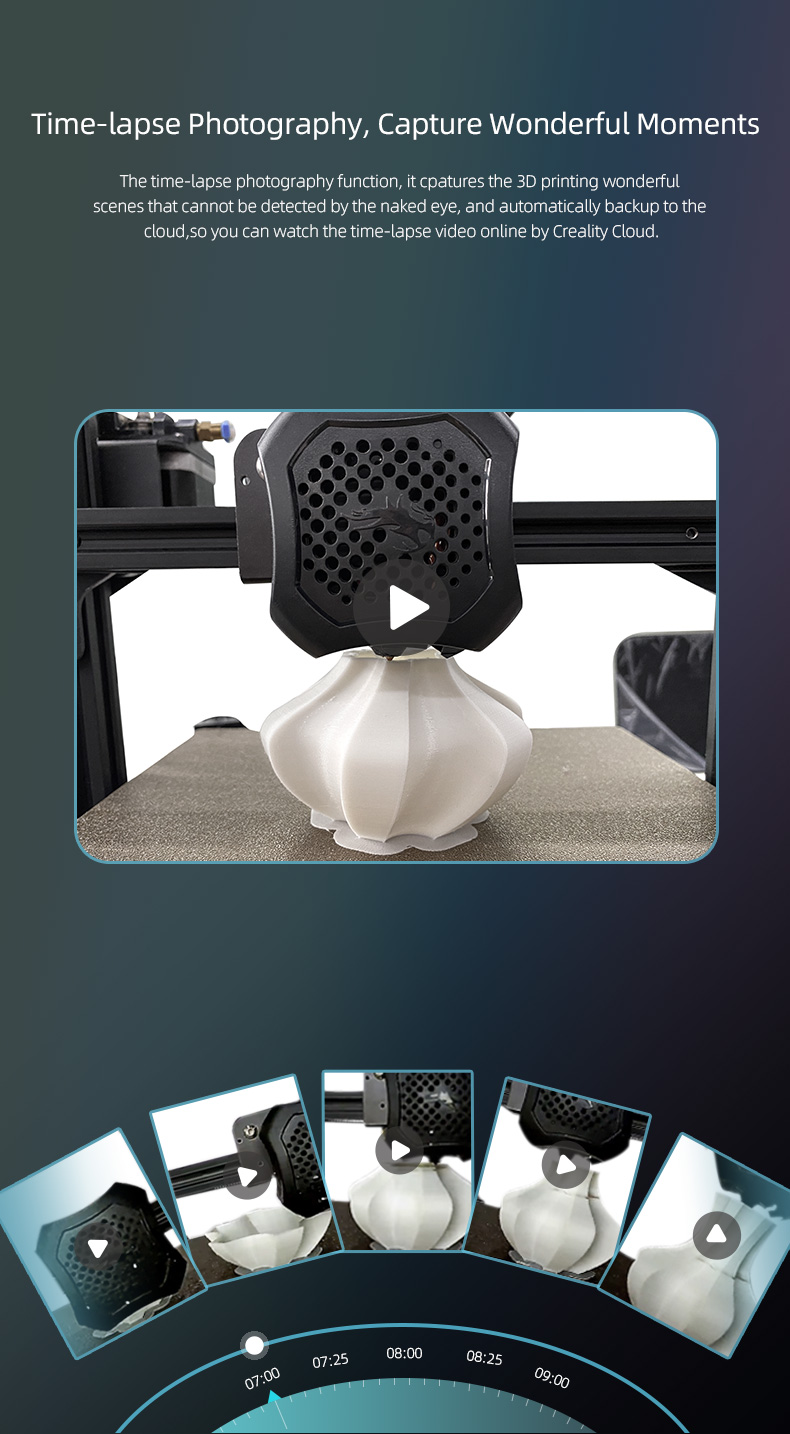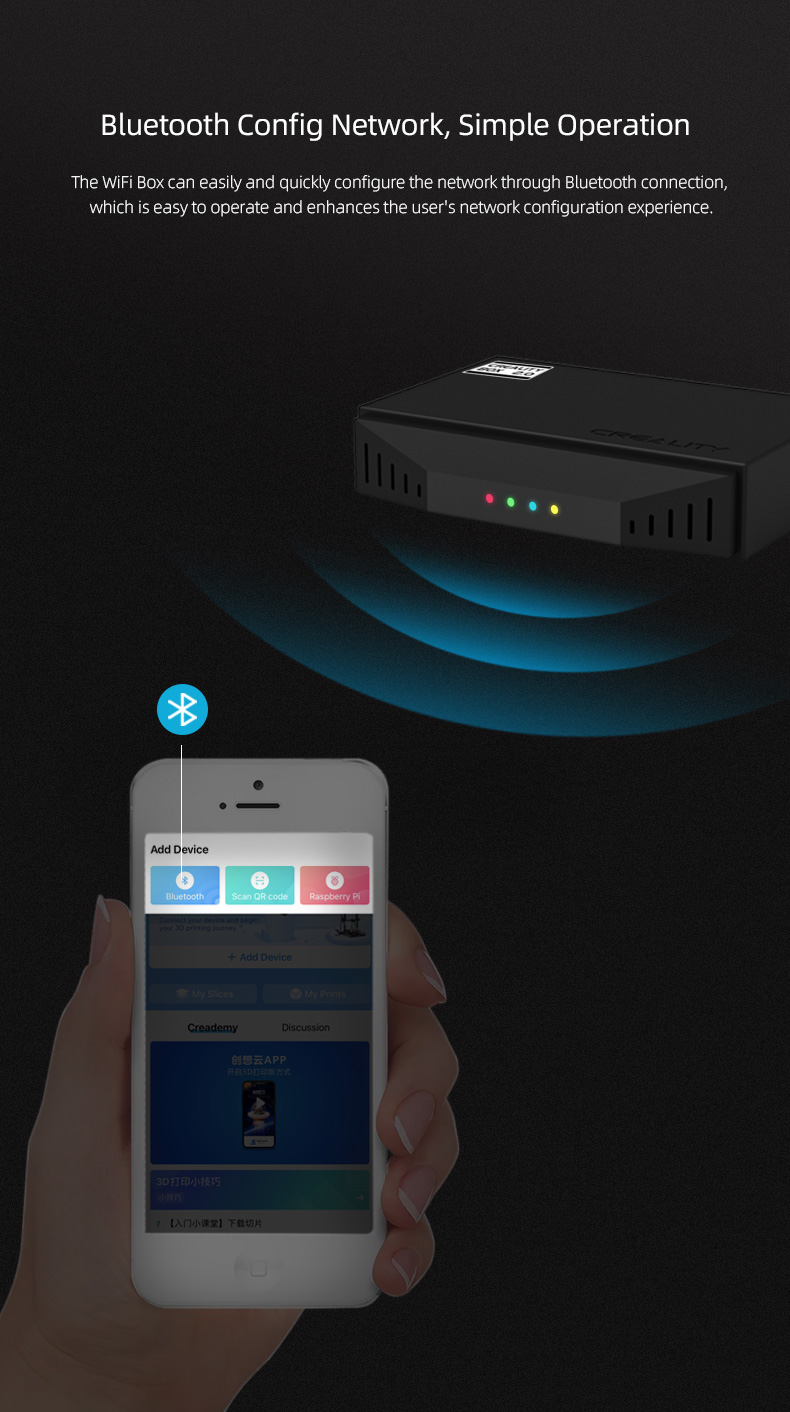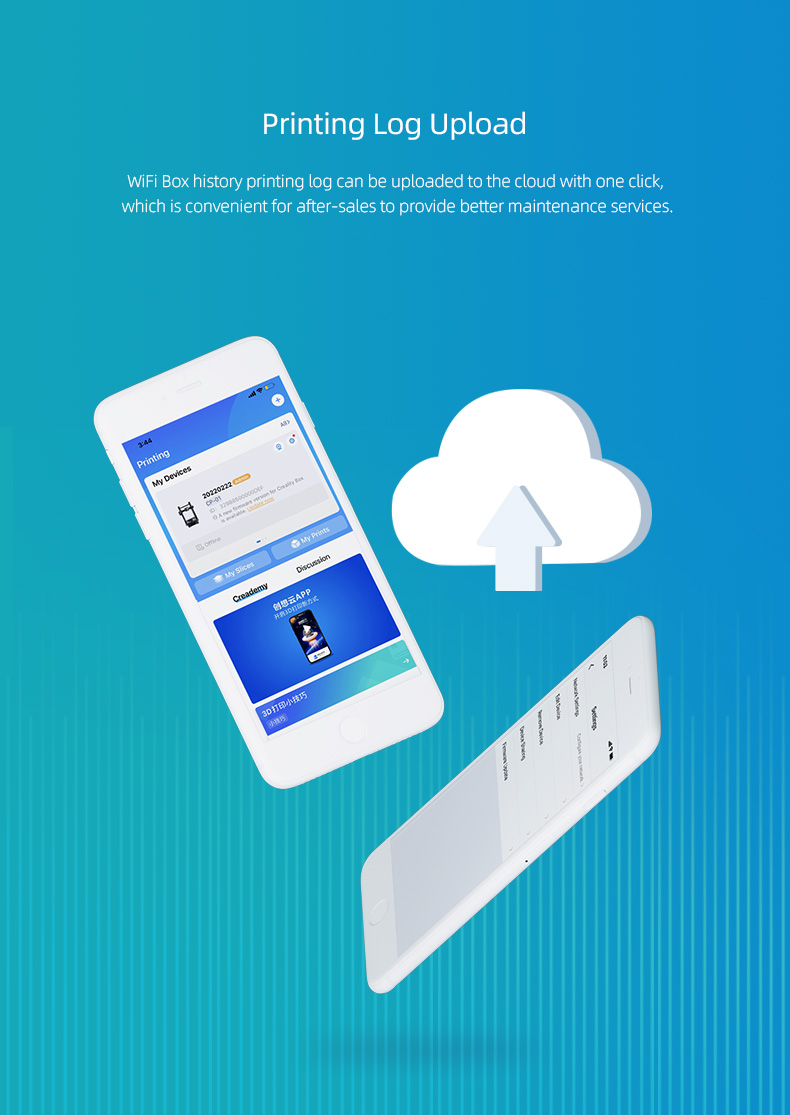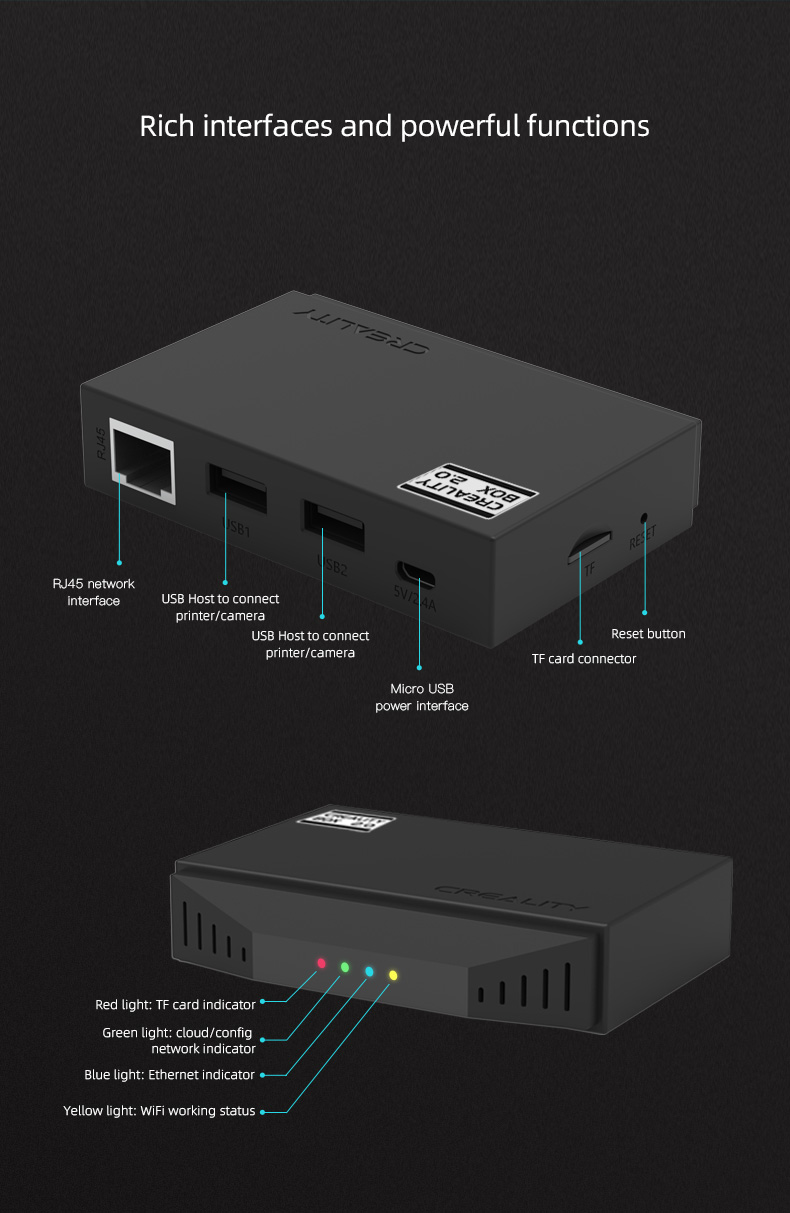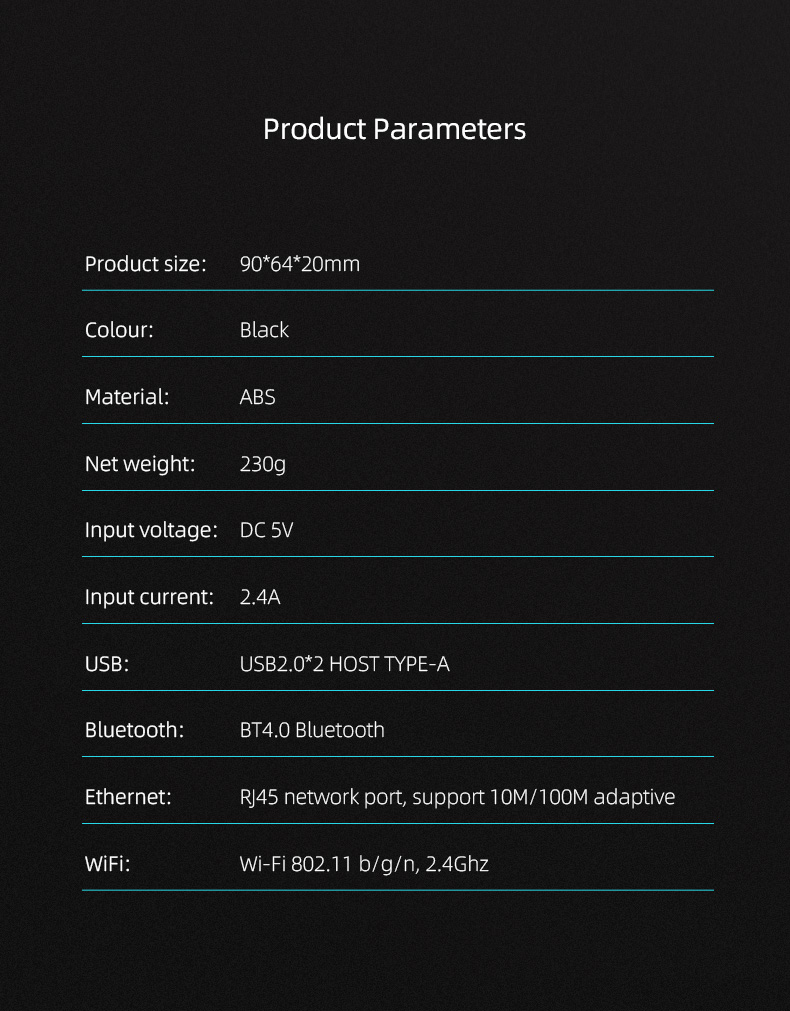 Customer Reviews
Write A Review
Ask A Question
Reviews (0)
Questions (0)