Do You Know About the Creality K1 Speedy 3D Printer?
2023-07-26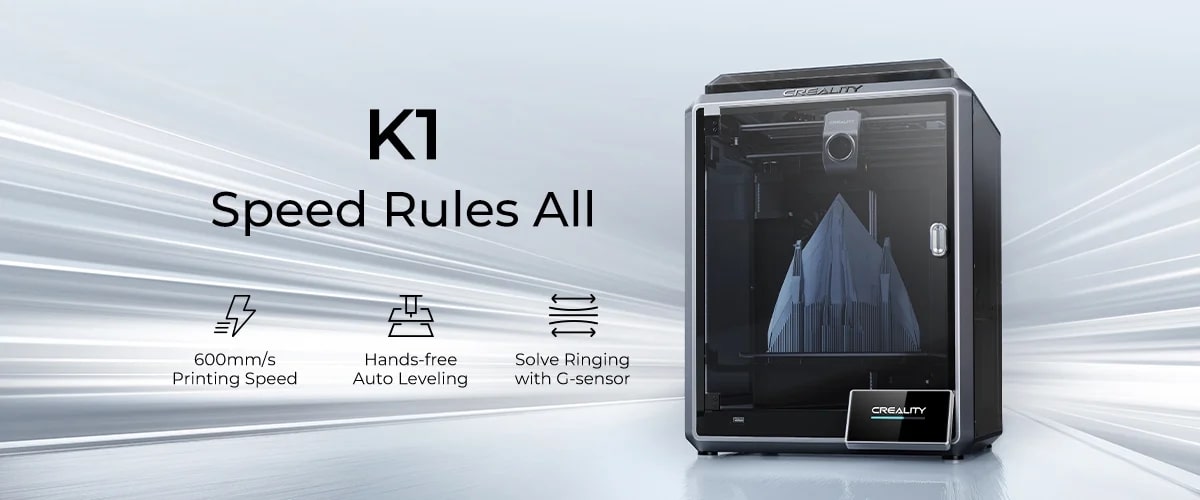 Creality K1 3D Printer is Creality's flagship series of printers officially launched in June 2023. Once released, it has been chosen by the majority of 3D printer enthusiasts, bringing us a brand new printing experience.

Fast, in an Epic Way
Crazy 600mm/s*. K1 is 12 times faster than a regular FDM 3D printer. Now, sit tight for the thrill of breathtaking speed.
*The 600mm/s speed is achieved at Creality Lab in the Surface Mode with 0.1mm layer height.
*The typical speed is 300mm/s. The travel speed is 800mm/s.
Always Print at Full Speed
With 20000mm/s² acceleration, K1 ramps up to 600mm/s in only 0.03s, delivering full speed in 90% of the printing time.
Creality Print 4.3 with Speed Genes
The latest self-developed slicer Creality Print 4.3 includes rich presets, and streamlines the slicing process into 3 simple stages. Even better, it bolsters high-speed printing with variable line width, arc path, and so on.
Model Cooling by Dual Fans
A large fan on the printhead with air ducts cools the model directly. An 18W auxiliary fan in the build chamber enhances the cooling effect, too.
Creality k1 3D Printer-Buy now and get two free rolls of supplies, but quantities are limited!
Learn More:https://www.creality3dofficial.eu/products/k1-3d-printer-eu